Press
Latest News
Silver Diamond Cluster Earrings
-
Why not natural silver diamonds set in sterling silver? These 3 tapering sizes in a cluster make a delicate, classic-but-contemporary pair of stud earrings. As always, 100% recycled silver and responsibly mined Australian diamonds.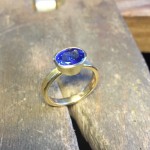 Tanzanite Delight: an Upcycled Ring
-
Hot off the bench this week: this customer's superb color Tanzanite was updated into her preferred contemporary style bezel ring while recycling the original setting.  A custom hand-fabricated ring was made of 100% reclaimed/refined 18k gold with the orientation of the oval set across the finger:
Memorial Bangle Bracelet with Engagement Diamond
-
I was honored to be asked to create this powerful project: to make a gold bangle bracelet from the gold collected by my client's late husband, incorporating the diamonds from their engagement ring, and the birthstone of their son…to wear in perpetuity.  
Sustainability