[cycloneslider id="home-page-slider"]
Press
[caroufredsel slug="press"]
Latest News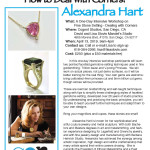 Stone Setting Workshop
-
Preparing for the stone setting workshop at Cogent Studios, Saturday April 13, and again May 10 as the fist session sold out!  Its always fun to share the tips and tricks for a beautiful professional setting.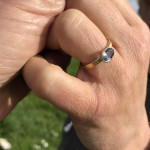 Happiness is a Newly Engaged Couple!
-
I have to say it makes my day when a happy new couple LOVE their Ring! This beauty is a hand fabricated 100% recycled 18k yellow gold ring with lovely oval tapered bezel with bright Ceylon sapphire! Congratulations to Cynthia and Frank!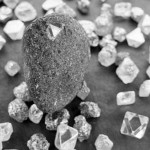 Diamond Industry: Improve or Loose!
-
There are so many changes in the jewelry industry right now, many changes for the better! Diamonds have long been the centerpiece, at least in the USA, of the "luxury" and Jewelry world, and also the most attention-getting part of some of the worst news about the industry. When the film "Blood Diamond" came out, […]
Sustainability
[caroufredsel slug="sustainability"]