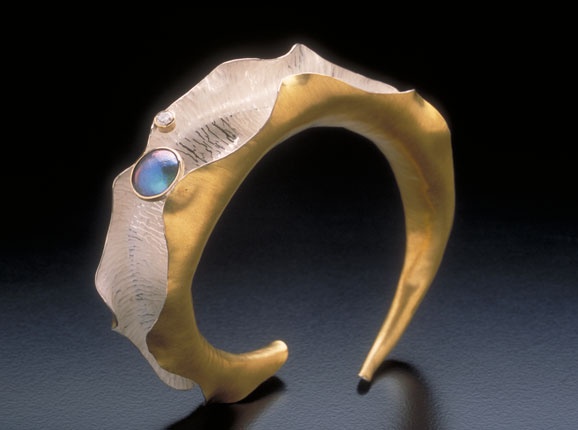 When two dominant axes curve in opposite directions, the result is known as an anticlastic form
[Ganoksin]
. 
When they curve toward the same side, the result is synclastic form. 
Alexandra Hart
uses
anticlastic and synclastic raising
techniques to create fabulous jewelry including the cuff in the picture. Demo Night provides you with an opportunity to see how she uses these techniques and to ask questions.
A beautiful Jewelry Rendering is a true piece of art that can showcase your work and help you present your clients with design suggestions to make a sale. Robert Ackermann will demonstrate jewelry rendering methods  that will help you produce drawings that are clear, easy to understand and that accurately represent your design ideas.
Vickie Riggs will offer a demonstration on stained glass techniques.  Perhaps one or more of these techniques can be used directly or adapted to suit the methods you use to create your jewelry. Consider how you could incorporate stained glass into your designs.  Could the look and feel of stained glass inspire your designs even if you don't use it directly in the finished piece?
Hydraulic press forming offers the opportunity to form metal in a unique way.  Lisa Slovis Mandel will present the equipment and techniques for shaping metal using the power of a hydraulic press. This could be the technique you need to produce that design that cannot be produced using your usual methods.
at Cogent Builders ~ The Lisa Slovis Mandel & David Mandel Studio, Cogent Builders, click here and select LOCATION for map
4905 Morena Blvd, #1315,  San Diego, CA 92116 
August 14th, 2014 ~ from 6:00 pm to 9:00 pm
Cost: $10.00 per ticket  ~  You can buy your ticket(s) here!!!