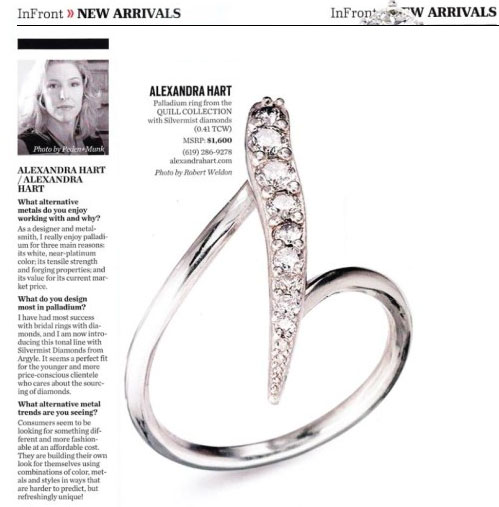 InStore Magazine covers the new Quill Collection with Silvermist Diamonds TM in the November issue "Alternative Metals" section.  Thank you Robert Weldon  for the great shots, and Ralf Kircher for the inclusion!
ALEXANDRA HART / ALEXANDRA HART
What alternative metals do you enjoy working with and why?
As a designer and metalsmith, I really enjoy palladium for three main reasons: its white, near-platinum color; its tensile strength and forging properties; and its value for its current market price.
What do you design most in palladium?
I have had most success with bridal rings with diamonds, and I am now introducing this tonal line with Silvermist Diamonds from Argyle. It seems a perfect fit for the younger and more price-conscious clientele who cares about the sourcing of diamonds.
What alternative metal trends are you seeing?
Consumers seem to be looking for something different and more fashionable at an affordable cost. They are building their own look for themselves using combinations of color, metals and styles in ways that are harder to predict, but refreshingly unique!