This is the time of year where we are bombarded with solicitations for tax deductible donations, Ethical Metalsmiths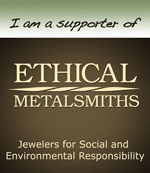 is the right choice!
Ethical Metalsmiths, is a 501-c3 non-profit organization dedicated to promoting a more socially and environmentally responsible jewelry industry.
As a professional in the jewelry industry, and industry which has a long history of destructive mining and abusive labor, it has always been my greatest concern not to contribute to further abuse.  This is why, since founding my own business in 1995, I have worked nearly exclusively with recycled metals, and have researched reputable stone dealers.
Finally the "green movement" has brought a broader awareness and concern for these issues, and Ethical Metalsmiths is poised to have a much greater impact on not only the jewelry industry and designers, but consumers and our society.
I have supported and promoted EM for some time, and I have recently been invited to help shape the future of the organization.  I am confident in their new trajectory and growth plan, and am totally impressed with their very direct use of funds.
I am compelled by the mission, the need, and my own involvement. I have never found a more targeted and "direct response use of funds" organization in both the jewelry industry and environmental worlds before, and I have never been so confident in the projects, nor as involved win the future direction of the organization before.  I believe this group is staged to have significant impact on not only my industry but the end consumers with the right funding and leadership.
Please Donate Here!